21.11.2012
Medical treatment cost insurance - bandaid for a tourist
Innovative insurance covering costs of medical treatment after return from traveling abroad has just been introduced by Towarzystwo Ubezpieczeń Europa. This is the only offer of that type in Poland. The insurance allows for complete convalescence when during a trip the tourist has an accident and he/she has to continue medical treatment in Poland after the return. It does not require to involve own funds as all costs are covered by Europa on an on-going basis.
23.10.2012
TU Europa: value on WSE rose one hundred times
Towarzystwo Ubezpieczeń Europa S.A., the only insurer present on WSE for as much as 13 years, left the floor on October 23rd. - After many years of dynamic growth, we are starting a new stage. As a result of ownership structure changes, we became part of two strong insurance companies - Talanx and Meiji Yasuda. However, within their structures, we will remain a company with its own strategy and vision of growth, retaining its existing unique character ? says Jacek Podoba, President of Europa.
09.10.2012
The highest Quality International for Europa's insurance
Legal Protection Insurance for SME sector companies, developed by Towarzystwo Ubezpieczeń Europa S.A., has been valued by an independent group of experts and awarded the title of the Highest Quality International. This is a convenient insurance product for small and medium companies, which provides comprehensive legal assistance in case of court disputes.
26.09.2012
Europeans ran for hope for children
More than 50 employees of Europa Insurance Group ran on September 16th in a charity relay race for construction of the new headquarters of the hospital for children with cancer in Wrocław, called "The Cape of Hope". Thanks to their involvement Europa will provide financial support for the erection of the new Clinic.
13.09.2012
Europa Insurance Group implements its new CSR strategy
On Sunday, September 16, more than 50 employees of the Europa Insurance Group will run in the charity relay race "Run for Hope", organized as a part of the Wrocław marathon. Its purpose is to collect as much money as possible for the construction of the "Cape of Hope" in Wrocław - a clinic for children with cancer. The participation in the race is just one element of the new Corporate Social Responsibility (CSR) strategy being implemented at the Group.
30.08.2012
Europa Group strengthens its leading position in the Polish bancassurance sector
As much as PLN 2.7 bn. (according to Consolidated Half Year Report) of the gross written premium was collected in the first half year of 2012 by Europa Insurance Group composed of TU Europa S.A., TU na Życie Europa S.A. and Open Life TU Życie S.A. The driving force of the growth in sales were the investment products which in TU na Życie Europa S.A. make up more than 2/3 of the gross written premium, while in Open Life made as much as PLN 1.7 bn. of the premium bill.
20.06.2012
Europa Insurance Group launched operation in Ukraine
The Europa Insurance Group was given a license to operate in Ukraine in scope of non-life and life insurance through its subsidiaries EUROPA.UA. They will start operation by offering bancassurance products and travel insurance available to retail customers. Europa is the second Polish insurance company entering the Ukrainian market.
12.06.2012
Let's do our job, even in crisis
More than 65% of representatives of the financial sector who took part in the 11th European Banking and Insurance Forum believes that the opportunities of the Polish bancassurance market have not been exhausted yet. Customers may expect the emergence of new products. However, market players must adapt them better to the needs of consumers and provide a level of customer education.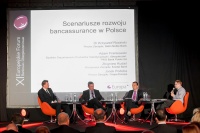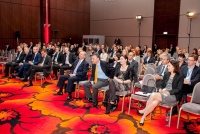 The panels focused on perspectives of the bancassurance market
05.05.2012
Pewne Jutro Fund – the first Polish reverse mortgage insurance
The first Polish insurance company launches a reverse annuity mortgage insurance. Towarzystwo Ubezpieczeń na Życie Europa SA has offered to its customers the Pewne Jutro Fund which provides an additional source of income for old-age pensioners. The solution supports persons over 65, who have no savings but own a real property. Taking account of increasingly lower old-age pensions, this is a realistic method of improving living standards for many elderly people.
24.04.2012
Newsweek grants an award to Europa
Europa Insurance Group climbed the podium in the Newsweek's 100 Most Valuable Companies, ranking 3rd amongst the insurers. The award ceremony took place on 23 April in Warsaw, and the distinction was received by Jacek Podoba - President.